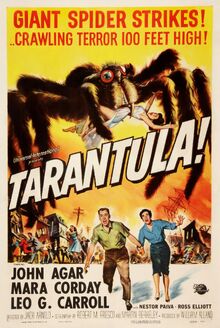 Tarantula is a 1955 American science fiction film from Universal-International, produced by William Alland, directed by Jack Arnold, and starring John Agar, Mara Corday and Leo G. Carroll. The screenplay by Robert M. Fresco and Martin Berkeley was based on a story by Arnold but inspired by Fresco's teleplay for the Science Fiction Theatre episode, "No Food for Thought", which was aired on May 14, 1955.
Ad blocker interference detected!
Wikia is a free-to-use site that makes money from advertising. We have a modified experience for viewers using ad blockers

Wikia is not accessible if you've made further modifications. Remove the custom ad blocker rule(s) and the page will load as expected.