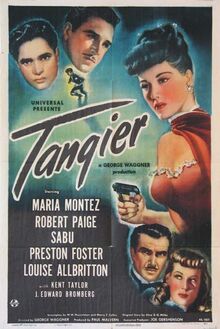 Tangier is a 1946 black-and-white thriller film set in the city of Tangier, Morocco that was directed by George Waggner and filmed on Universal's backlot. It was one of the last Universal Pictures films before it merged into Universal-International in July 1946.
The film features a variety of well-known Universal players completing their contracts, such as Maria Montez, Robert Paige and Louise Allbritton, and well-known 1940s stars Preston Foster and Sabu who sings "She'll Be Coming 'Round the Mountain". The plot tells a tale of an escaped Nazi war criminal who is a diamond smuggler. The film was made at the insistence of Maria Montez who was sick of being typecast in Technicolor oriental adventures.
Ad blocker interference detected!
Wikia is a free-to-use site that makes money from advertising. We have a modified experience for viewers using ad blockers

Wikia is not accessible if you've made further modifications. Remove the custom ad blocker rule(s) and the page will load as expected.