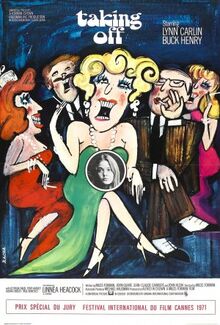 Taking Off is a 1971 American comedy film. It was Czech director Miloš Forman's first American film. It tells the story of a group of parents whose children have run away from home. The parents take the opportunity to rediscover their youth.
It features a number of set pieces, including an open-mic record label audition which is woven throughout the film, featuring a number of female singers (including a young Carly Simon and an acoustic ballad by a then-unknown Kathy Bates) performing old standards, folk ballads, and rock songs; a meeting in which a group of generally middle-class conservative parents are taught how to smoke marijuana; and a raucous game of strip poker played by the adults.
It was written by Forman in collaboration with John Guare, along with Jean-Claude Carriere and John Klein.
Part of the movie also takes place at a Tina Turner concert.
Cast
Lynn Carlin - Lynn Tyne
Buck Henry - Larry Tyne
Georgia Engel - Margot
Tony Harvey - Tony
Audra Lindley - Ann Lockston
Paul Benedict - Ben Lockston
Vincent Schiavelli - Schiavelli
David Gittler - Jamie
Ike Turner - Himself
Tina Turner - Herself
Linnea Heacock - Jeannie Tyne
Rae Allen - Mrs. Divito
Frank Berle - Committee Man
Philip Bruns - Policeman (as Phillip Bruns)
Gail Busman - Nancy Lockston
Carly Simon - Audition Singer
Kathy Bates - Audition Singer (as Bobo Bates)
Shellen Lubin - Audition Singer
Shelley Ackerman - Audition Singer
Lois Dengrove - Audition Singer
Bonnie Marcus - Audition Singer
Ad blocker interference detected!
Wikia is a free-to-use site that makes money from advertising. We have a modified experience for viewers using ad blockers

Wikia is not accessible if you've made further modifications. Remove the custom ad blocker rule(s) and the page will load as expected.