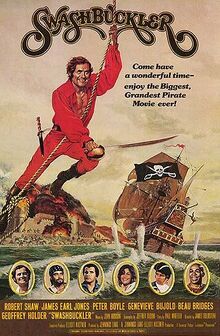 Swashbuckler is a romantic adventure film produced in the U.S. by Universal Studios and released in 1976. The film is based on the story "The Scarlet Buccaneer", written by Paul Wheeler and adapted for the screen by Jeffery Bloom. It was directed by James Goldstone and was rated PG.
The movie was released in the UK as The Scarlet Buccaneer.
Ad blocker interference detected!
Wikia is a free-to-use site that makes money from advertising. We have a modified experience for viewers using ad blockers

Wikia is not accessible if you've made further modifications. Remove the custom ad blocker rule(s) and the page will load as expected.