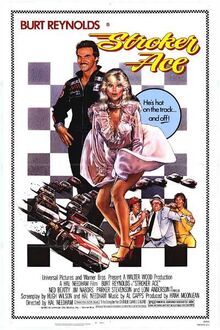 Stroker Ace is a 1983 action comedy film, filmed in North Carolina and Georgia, about a NASCAR driver, the eponymous Stroker Ace, played by Burt Reynolds.
The co-stars were Jim Nabors, Loni Anderson, Ned Beatty, Parker Stevenson, and Bubba Smith, with appearances by many NASCAR drivers, such as: Dale Earnhardt, Richard Petty, Neil Bonnett, Harry Gant, Terry Labonte, Kyle Petty, Benny Parsons, Tim Richmond, Ricky Rudd, Cale Yarborough, and announcers Ken Squier, David Hobbs, and Chris Economaki. The movie was filmed on location at Charlotte Motor Speedway, Talladega Speedway and the Atlanta Motor Speedway in Hampton, Georgia. The theme song was performed by Charlie Daniels.
Burt Reynolds turned down the role of astronaut Garrett Breedlove in Terms of Endearment to do this film. The role went to Jack Nicholson, who went on to win an Academy Award. Reynolds said he made this decision because "I felt I owed Hal more than I owed Jim" but that it was a turning point in his career from which he never recovered. "That's where I lost them," he says of his fans.
The movie was adapted from the 1971 novel Stand On It, an autobiography of fictional driver "Stroker Ace." The novel's joint authors, William Neely and Robert K. Ottum, based the book on actual events from the racing world but with their protagonist as the subject.
Ad blocker interference detected!
Wikia is a free-to-use site that makes money from advertising. We have a modified experience for viewers using ad blockers

Wikia is not accessible if you've made further modifications. Remove the custom ad blocker rule(s) and the page will load as expected.