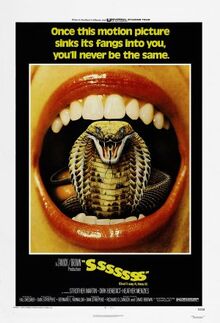 Sssssss (released as Ssssnake in the UK) is a 1973 horror film starring Strother Martin, Dirk Benedict, and Heather Menzies It was directed by Bernard L. Kowalski and written by Hal Dresner and Daniel C. Striepeke, the latter of whom also produced the film. The make-up effects were created by John Chambers and Nick Marcellino. It received a nomination for the Best Science Fiction Film award of the Academy of Science Fiction, Fantasy & Horror Films in 1975.
Ad blocker interference detected!
Wikia is a free-to-use site that makes money from advertising. We have a modified experience for viewers using ad blockers

Wikia is not accessible if you've made further modifications. Remove the custom ad blocker rule(s) and the page will load as expected.