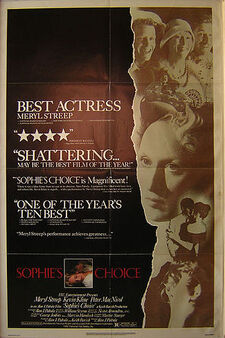 Sophie's Choice is a 1982 American drama film directed by Alan J. Pakula, who adapted William Styron's novel of the same name. Meryl Streep stars as Sophie, a Polish immigrant who shares a boarding house in Brooklyn with her tempestuous lover, Nathan (Kevin Kline), and a young writer, Stingo (Peter MacNicol).
Streep's performance was acclaimed, and she received the Academy Award for Best Actress. The film was nominated for Best Cinematography (Néstor Almendros), Costume Design (Albert Wolsky), Best Music (Marvin Hamlisch), and Best Adapted Screenplay (Alan J. Pakula).
British company ITC Entertainment produced the film, and Universal Pictures distributed and released it.
Ad blocker interference detected!
Wikia is a free-to-use site that makes money from advertising. We have a modified experience for viewers using ad blockers

Wikia is not accessible if you've made further modifications. Remove the custom ad blocker rule(s) and the page will load as expected.