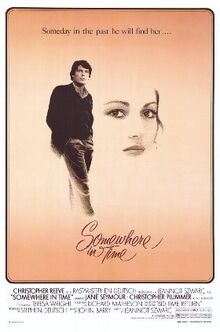 Somewhere in Time is a 1980 romantic fantasy film directed by Jeannot Szwarc. It is a film adaptation of the 1975 novel Bid Time Return by Richard Matheson, who also wrote the screenplay. The film stars Christopher Reeve, Jane Seymour, and Christopher Plummer.
Reeve plays Richard Collier, a playwright who becomes smitten by a photograph of a young woman at the Grand Hotel. Through self-hypnosis, he travels back in time to the year 1912 to find love with actress Elise McKenna (portrayed by Seymour). However, this relationship may not last as long as the two of them think; Elise's manager, William Fawcett Robinson (portrayed by Plummer), fears that romance will derail her career and resolves to stop him.
The film is known for its musical score composed by John Barry. The 18th variation of Sergei Rachmaninoff's Rhapsody on a Theme of Paganini also appears several times.
Ad blocker interference detected!
Wikia is a free-to-use site that makes money from advertising. We have a modified experience for viewers using ad blockers

Wikia is not accessible if you've made further modifications. Remove the custom ad blocker rule(s) and the page will load as expected.