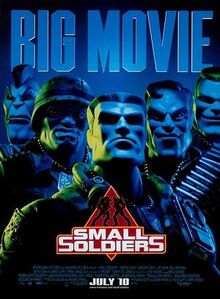 Small Soldiers is a 1998 American science fiction action film directed by Joe Dante. The film revolves around two adolescents who get caught in the middle of a war between two factions of sentient action figures, the Gorgonites and the Commando Elite.
Critical reception of the film was mixed. Critics complimented the film's special effects, but criticized some of the darker tone of the film, which had been marketed to a young audience, in spite of obtaining a PG-13 rating.
Ad blocker interference detected!
Wikia is a free-to-use site that makes money from advertising. We have a modified experience for viewers using ad blockers

Wikia is not accessible if you've made further modifications. Remove the custom ad blocker rule(s) and the page will load as expected.