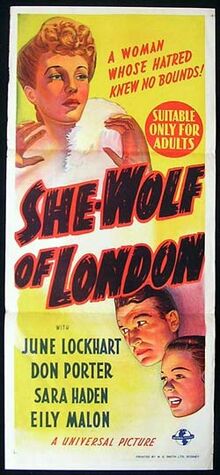 She-Wolf of London (UK title: Curse of the Allenbys) is a 1946 horror film produced by Universal Studios, directed by Jean Yarbrough and starring June Lockhart and Don Porter. The title evokes the earlier Werewolf of London (1935), although, unlike its forebear, it is concerned more with mystery and suspense than supernatural horror. In the USA, the film was released as a double feature with The Cat Creeps. It was also included on The Wolf Man legacy collection DVD set.
Ad blocker interference detected!
Wikia is a free-to-use site that makes money from advertising. We have a modified experience for viewers using ad blockers

Wikia is not accessible if you've made further modifications. Remove the custom ad blocker rule(s) and the page will load as expected.