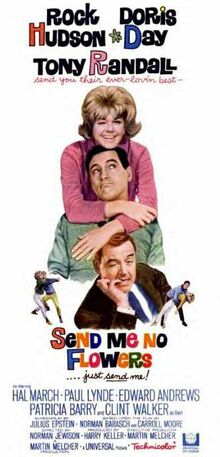 Send Me No Flowers is a 1964 American comedy film, directed by Norman Jewison and starring Rock Hudson, Doris Day, and Tony Randall. After Pillow Talk and Lover Come Back, it is the third and final film in which Hudson, Day and Randall starred together.
The screenplay by Julius J. Epstein is based on the play by Norman Barasch and Carroll Moore, which had a brief run on Broadway in 1960. The title tune was written by Hal David and Burt Bacharach.
Ad blocker interference detected!
Wikia is a free-to-use site that makes money from advertising. We have a modified experience for viewers using ad blockers

Wikia is not accessible if you've made further modifications. Remove the custom ad blocker rule(s) and the page will load as expected.