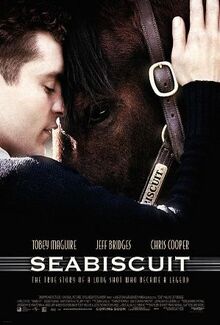 Seabiscuit is a 2003 American biographical sports psychological-drama thriller film based on the best-selling non-fiction book Seabiscuit: An American Legend by Laura Hillenbrand. The film is loosely based on the life and racing career of Seabiscuit, an undersized and overlooked thoroughbred race horse, whose unexpected successes made him a hugely popular media sensation in the United States during the Great Depression.
Ad blocker interference detected!
Wikia is a free-to-use site that makes money from advertising. We have a modified experience for viewers using ad blockers

Wikia is not accessible if you've made further modifications. Remove the custom ad blocker rule(s) and the page will load as expected.