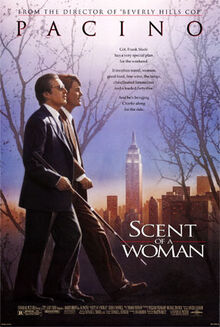 Scent of a Woman is a 1992 American drama directed and produced by Martin Brest that tells the story of a preparatory school student who takes a job as an assistant to an irascible, blind, medically retired Army officer. The film stars Al Pacino, Chris O'Donnell, James Rebhorn, Philip Seymour Hoffman, and Gabrielle Anwar. It is a remake of Dino Risi's 1974 Italian film Profumo di donna. Adapted by Bo Goldman from the novel Il buio e il miele (Italian: Darkness and Honey) by Giovanni Arpino and from the 1974 screenplay by Ruggero Maccari and Dino Risi, the film was directed by Martin Brest.
Pacino won the Academy Award for Best Actor for his performance and the film was nominated for Best Director, Best Picture andBest Adapted Screenplay. The film won three major awards at the Golden Globe Awards: Best Adapted Screenplay, Best Actor and Best Motion Picture – Drama.
The film was shot primarily around New York state. Portions of the movie were filmed on location at Princeton University in Princeton, New Jersey; at the Emma Willard School, an all-girls school in Troy, New York; and at the Ethical Culture Fieldston School in New York City.
Ad blocker interference detected!
Wikia is a free-to-use site that makes money from advertising. We have a modified experience for viewers using ad blockers

Wikia is not accessible if you've made further modifications. Remove the custom ad blocker rule(s) and the page will load as expected.