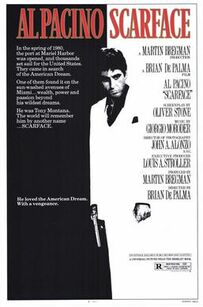 Scarface is a 1983 American crime drama film directed by Brian De Palma and written by Oliver Stone. A remake of the 1932 film of the same name, Scarface tells the story of Cuban refugee Tony Montana (Al Pacino) who arrives in 1980s Miami with nothing, and rises up to become a powerful drug kingpin. The film also features Mary Elizabeth Mastrantonio, Steven Bauer, and Michelle Pfeiffer.
The initial critical response to Scarface was mixed, with criticism over excessive violence, frequent strong language and graphic hard drug usage. Some Cuban expatriates in Miami objected to the film's portrayal of Cubans as criminals and drug traffickers. Contemporary reviews have been more positive, and screenwriters and directors such as Martin Scorsese have praised the movie. It is now considered a classic within the gangster film genre and has resulted in many cultural references such as in comic books and video games.
Ad blocker interference detected!
Wikia is a free-to-use site that makes money from advertising. We have a modified experience for viewers using ad blockers

Wikia is not accessible if you've made further modifications. Remove the custom ad blocker rule(s) and the page will load as expected.