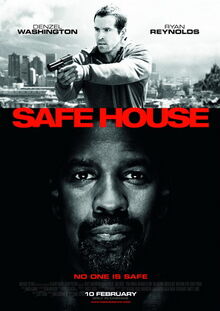 Safe House is a 2012 American action thriller film directed by Daniel Espinosa, starring Denzel Washington and Ryan Reynolds. It was released on February 10, 2012, in North America by Universal Pictures. Filming took place in Cape Town, South Africa. The film premiered in New York City on February 7, 2012, and was released in U.S. theatres on February 10, 2012.
Ad blocker interference detected!
Wikia is a free-to-use site that makes money from advertising. We have a modified experience for viewers using ad blockers

Wikia is not accessible if you've made further modifications. Remove the custom ad blocker rule(s) and the page will load as expected.