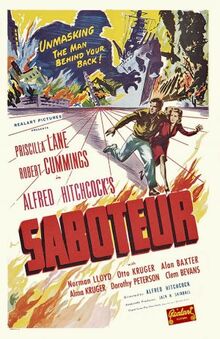 Saboteur is a 1942 Universal spy thriller film directed by Alfred Hitchcock with a screenplay written by Peter Viertel, Joan Harrison and Dorothy Parker. The film stars Priscilla Lane, Robert Cummings and Norman Lloyd.
This film should not be confused with an earlier Hitchcock film with a similar title, Sabotage (also known as The Woman Alone) from 1936.
Ad blocker interference detected!
Wikia is a free-to-use site that makes money from advertising. We have a modified experience for viewers using ad blockers

Wikia is not accessible if you've made further modifications. Remove the custom ad blocker rule(s) and the page will load as expected.