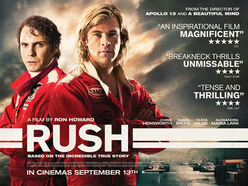 Rush is a 2013 biographical sports drama film centered on the rivalry between Formula 1 drivers James Hunt and Niki Lauda during the 1976 Formula One motor-racing season. It was written by Peter Morgan, directed by Ron Howard and stars Chris Hemsworth as Hunt and Daniel Brühl as Lauda. The film premiered in London on September 2, 2013 and was shown at the 2013 Toronto International Film Festival before its United Kingdom release on September 13, 2013.
Ad blocker interference detected!
Wikia is a free-to-use site that makes money from advertising. We have a modified experience for viewers using ad blockers

Wikia is not accessible if you've made further modifications. Remove the custom ad blocker rule(s) and the page will load as expected.