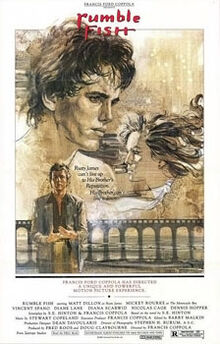 Rumble Fish is an American 1983 drama film directed by Francis Ford Coppola. It is based on the novel Rumble Fish by S. E. Hinton, who also co-wrote the screenplay.
The film centers on the relationship between Motorcycle Boy (Mickey Rourke), a revered former gang leader wishing to live a more peaceful life, and his younger brother, Rusty James (Matt Dillon), an uncool teenaged hoodlum who aspires to become as feared as Motorcycle Boy. The film's marketing tagline was, "Rusty James can't live up to his brother's reputation. His brother can't live it down."
Coppola wrote the screenplay for the film with Hinton on his days off from shooting The Outsiders. He made the films back-to-back, retaining much of the same cast and crew. The film is notable for its avant-garde style with a film noir feel, shot on stark high-contrast black-and-white film, using the spherical cinematographic process with allusions to French New Wave cinema and German Expressionism. Rumble Fish features an experimental score by Stewart Copeland, drummer of the musical group The Police, who used a Musync, a new device at the time.
Ad blocker interference detected!
Wikia is a free-to-use site that makes money from advertising. We have a modified experience for viewers using ad blockers

Wikia is not accessible if you've made further modifications. Remove the custom ad blocker rule(s) and the page will load as expected.