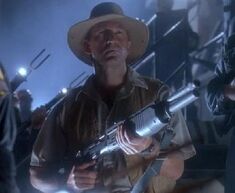 Robert Muldoon was Jurassic Park's game warden. He was also the warden at John Hammond's park in Kenya. He was shown to be proficient with weaponry and was a skilled hunter. He was portrayed in the film as a cautious man and a bit of an alarmist. It can be assumed that he had worked with Hammond for a considerable amount of time and had gained Hammond's confidence as Hammond trusted him enough to let him bring back his grandchildren.
Ad blocker interference detected!
Wikia is a free-to-use site that makes money from advertising. We have a modified experience for viewers using ad blockers

Wikia is not accessible if you've made further modifications. Remove the custom ad blocker rule(s) and the page will load as expected.