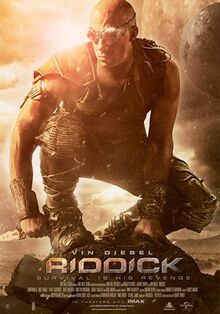 Riddick is a 2013 British-American science fiction thriller film, the third installment in the Riddick film series. Produced by and starring Vin Diesel as the title character, Riddick is written and directed by David Twohy, who previously wrote and directed the first two installments, Pitch Black (2000) and The Chronicles of Riddick (2004).
The film was released on September 4, 2013, in the UK and Ireland, and September 6, 2013, in the United States. It was shown in both conventional and IMAX Digital theaters.
Ad blocker interference detected!
Wikia is a free-to-use site that makes money from advertising. We have a modified experience for viewers using ad blockers

Wikia is not accessible if you've made further modifications. Remove the custom ad blocker rule(s) and the page will load as expected.