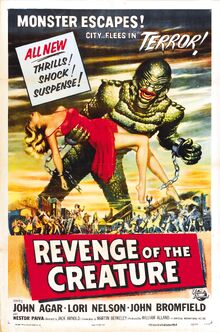 Revenge of the Creature (aka Return of the Creature and Return of the Creature from the Black Lagoon) is the first sequel to Creature from the Black Lagoon, being the only 3-D film released in 1955 and the only 3-D sequel to a 3-D film. Directed by Jack Arnold, the film stars John Agar and Lori Nelson.
Revenge of the Creature premiered in Denver on March 23, 1955 and a 2-D sequel, The Creature Walks Among Us, followed it in 1956.
Ad blocker interference detected!
Wikia is a free-to-use site that makes money from advertising. We have a modified experience for viewers using ad blockers

Wikia is not accessible if you've made further modifications. Remove the custom ad blocker rule(s) and the page will load as expected.