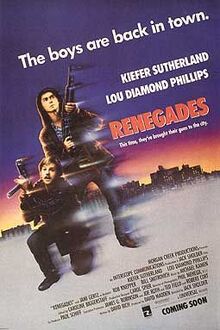 Renegades is a 1989 action-crime film starring Lou Diamond Phillips and Kiefer Sutherland. Floyd Red Crow Westerman debuted in this film as "Red Crow", Hank Storm's father.
Buster McHenry (Sutherland) is as an undercover agent for the Philadelphia police. His mission involves him in a robbery. Buster gets shot but Hank Storm (Phillips), a Lakota Sioux, helps Buster. Since Hank wants a spear in the possession of the criminals that Buster is after, they team up.
Ad blocker interference detected!
Wikia is a free-to-use site that makes money from advertising. We have a modified experience for viewers using ad blockers

Wikia is not accessible if you've made further modifications. Remove the custom ad blocker rule(s) and the page will load as expected.