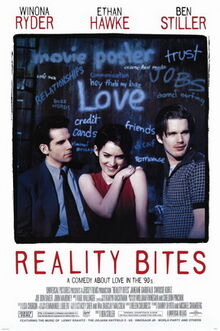 Reality Bites is a 1994 romantic comedy-drama film written by Helen Childress and directed by Ben Stiller. It stars Winona Ryder,Ethan Hawke and Stiller, with supporting roles by Janeane Garofalo and Steve Zahn. The plot follows Lelaina (Ryder), an aspiring videographer working on a documentary called Reality Bites about the disenfranchised lives of her friends and roommates. Their challenges exemplify some of the career and lifestyle choices faced by Generation X. The film was well-received critically and commercially.
Ad blocker interference detected!
Wikia is a free-to-use site that makes money from advertising. We have a modified experience for viewers using ad blockers

Wikia is not accessible if you've made further modifications. Remove the custom ad blocker rule(s) and the page will load as expected.