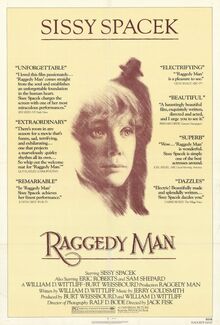 Raggedy Man is a 1981 film starring Eric Roberts and Sissy Spacek. It was filmed in Lockhart, Texas. The story is about people in the small Texas town of Gregory during World War II.
Raggedy Man is the title of a novel by William D. Wittliff and Sara Clark, published in 1979, on which the movie of the same title is based.
Ad blocker interference detected!
Wikia is a free-to-use site that makes money from advertising. We have a modified experience for viewers using ad blockers

Wikia is not accessible if you've made further modifications. Remove the custom ad blocker rule(s) and the page will load as expected.