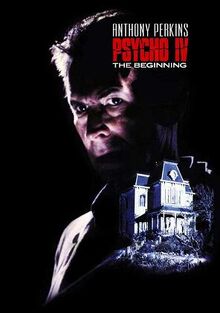 Psycho IV: The Beginning is a 1990 made-for-cable-television film sequel and prequel to Alfred Hitchcock's 1960 film Psycho, as it includes both events after Psycho III while focusing on flashbacks of events that took place prior to the original film. It is the fourth and final film in the Psycho series. Directed by Mick Garris, it starred Anthony Perkins, Henry Thomas, Olivia Hussey and CCH Pounder and premiered on the Showtime cable network on November 10, 1990.
The film was written by Joseph Stefano, who also wrote the screenplay of the original film. The original musical score was composed by Graeme Revell and the title theme music by Bernard Herrmann from the original film was used.
Ad blocker interference detected!
Wikia is a free-to-use site that makes money from advertising. We have a modified experience for viewers using ad blockers

Wikia is not accessible if you've made further modifications. Remove the custom ad blocker rule(s) and the page will load as expected.