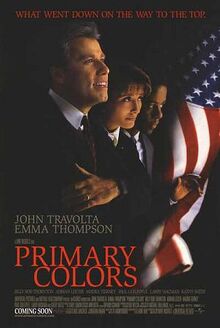 Primary Colors is a 1998 comedy-drama film based on the novel Primary Colors: A Novel of Politics, a roman à clef about Bill Clinton's first presidential campaign in 1992, which was originally published anonymously, but in 1996 was revealed to have been written by journalist Joe Klein, who had been covering Clinton's campaign for Newsweek. The film was directed by Mike Nichols and starred John Travolta, Emma Thompson, Billy Bob Thornton, Kathy Bates, Maura Tierney, Larry Hagman, and Adrian Lester.
Bates was nominated for an Academy Award for Best Supporting Actress for her performance, and the film itself was nominated for an Academy Award for Best Adapted Screenplay.
Ad blocker interference detected!
Wikia is a free-to-use site that makes money from advertising. We have a modified experience for viewers using ad blockers

Wikia is not accessible if you've made further modifications. Remove the custom ad blocker rule(s) and the page will load as expected.