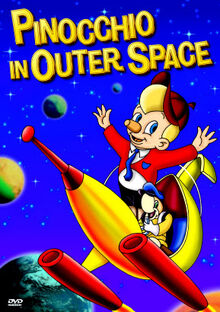 Pinocchio in Outer Space is a 1965 Belgian-American animated film which sets Carlo Collodi's Pinocchio character on a rocketship adventure. Peter Lazer does the voice of Pinocchio. The film was produced by Ray Goossens at Belvision Studios, with American involvement from Norm Prescott (Filmation) and Fred Ladd.
The French version was titled Pinocchio dans l'espace and the Dutch version was known as Pinocchio in de ruimte.
The film was released in the USA by Universal Pictures. It was Universal's second animated film that it distributed (the first was The Snow Queen) and its last one until 1986's An American Tail, which is the first one it produced.
The talking cricket character was not present in this production. Instead, Pinocchio's sidekick was Nurtle, an alien turtle sent by his government to investigate an unusual increase of radiation on Mars, voiced by Arnold Stang. Together they do battle against Astro, a marauding intergalactic whale who was seeking revenge after being abducted by a mysterious race of Martians.
Ad blocker interference detected!
Wikia is a free-to-use site that makes money from advertising. We have a modified experience for viewers using ad blockers

Wikia is not accessible if you've made further modifications. Remove the custom ad blocker rule(s) and the page will load as expected.