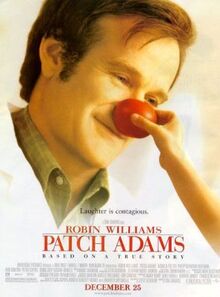 Patch Adams is a 1998 semi-biographical comedy-drama film starring Robin Williams, Monica Potter, Philip Seymour Hoffman and Bob Gunton. Directed by Tom Shadyac, it is based on the life story of Dr. Hunter "Patch" Adams and his book, Gesundheit: Good Health is a Laughing Matter, by Adams and Maureen Mylander. Despite being poorly received by critics and Dr. Adams himself, the film was a box-office success, grossing over twice its budget in the United States alone.
Ad blocker interference detected!
Wikia is a free-to-use site that makes money from advertising. We have a modified experience for viewers using ad blockers

Wikia is not accessible if you've made further modifications. Remove the custom ad blocker rule(s) and the page will load as expected.