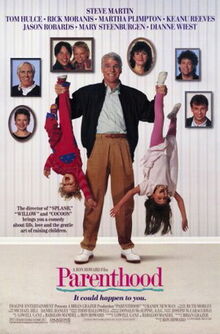 Parenthood is a 1989 comedy-drama film with an ensemble cast that includes Steve Martin, Tom Hulce, Rick Moranis, Martha Plimpton, Joaquin Phoenix, Keanu Reeves, Jason Robards, Mary Steenburgen, and Dianne Wiest.
The film was directed by Ron Howard, who assisted in developing the story with screenwriters Lowell Ganz and Babaloo Mandel. Much of it is based on the family and parenting experiences of Howard, Ganz, Mandel, and producer Brian Grazer, who have at least 14 children among the four of them. Principal photography was filmed in and around Orlando, Florida with some scenes filmed at the University of Florida. It was nominated for two Academy Awards: Dianne Wiest for Best Supporting Actress and Randy Newman for Best Song for "I Love to See You Smile".
The film was adapted into a NBC television series on two separate occasions, in 1990 and again in 2010. While the first series was cancelled after one season, the second series ran for six seasons.