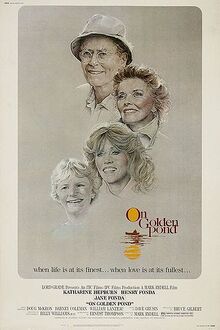 On Golden Pond is a 1981 American drama film directed by Mark Rydell. The screenplay by Ernest Thompson was adapted from his 1979 play of the same title. Henry Fonda won the Academy Award for Best Actor in what was his final film role. Co-starKatharine Hepburn also received an Oscar, as did Thompson for his script, and there were a further seven Oscar nominations for the film, including Jane Fonda, who played the daughter. The film co-starred Dabney Coleman and Doug McKeon.
Ad blocker interference detected!
Wikia is a free-to-use site that makes money from advertising. We have a modified experience for viewers using ad blockers

Wikia is not accessible if you've made further modifications. Remove the custom ad blocker rule(s) and the page will load as expected.