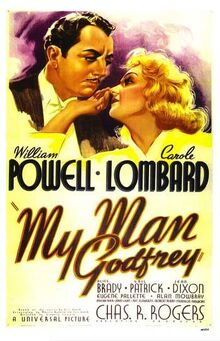 My Man Godfrey is a 1936 American comedy-drama film directed by Gregory La Cava. The screenplay was written by Morrie Ryskind, with uncredited contributions by La Cava, based on 1101 Park Avenue, a short novel by Eric Hatch. The story concerns a socialite who hires a derelict to be her family's butler, only to fall in love with him, much to his dismay. The film stars William Powelland Carole Lombard. Powell and Lombard were divorced years earlier, but were good friends.
The film was remade in 1957 with June Allyson and David Niven in the starring roles. In 1999, the original version of My Man Godfrey was deemed "culturally significant" by the United States Library of Congress and selected for preservation in the National Film Registry.
Ad blocker interference detected!
Wikia is a free-to-use site that makes money from advertising. We have a modified experience for viewers using ad blockers

Wikia is not accessible if you've made further modifications. Remove the custom ad blocker rule(s) and the page will load as expected.