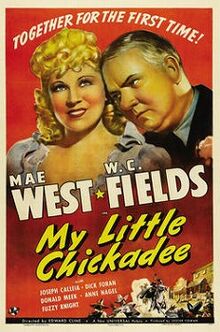 My Little Chickadee (1940) is a Universal comedy/western motion picture starring Mae West and W. C. Fields, with Joseph Calleia, Ruth Donnelly, Margaret Hamilton, Donald Meek, Willard Robertson, Dick Foran, George Moran, William B. Davidson, and Addison Richards. It was directed by Edward F. Cline. The original music was written by Ben Oakland (song "Willie of the Valley") and Frank Skinner.
West reportedly wrote the original screenplay, with Fields contributing one extended scene set in a bar. Universal decided to give the stars equal screenplay credit, perhaps to avoid the appearance of favoritism, but the move incensed West, who declined to re-team with Fields afterwards. The stars spoofed themselves and the Western genre, with West providing a series of her trademark double entendres.
Ad blocker interference detected!
Wikia is a free-to-use site that makes money from advertising. We have a modified experience for viewers using ad blockers

Wikia is not accessible if you've made further modifications. Remove the custom ad blocker rule(s) and the page will load as expected.