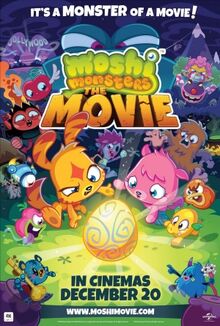 Moshi Monsters: The Movie is a 2013 British-Irish-American animated musical adventure comedy film directed by Wip Vernooij and Morgan Francis (which marked their directorial debut) and based on the virtual world of Moshi Monsters. The film stars Katsuma, Poppet, Diavlo, Luvli, Furi, Zommer, Dr. Strangeglove, Sweet Tooth, Bobbi Singsong, Mr and Mrs Snoodle, Buster Bumplechops, and more monsters along with a load of Moshlings. The film was released to UK and Irish theaters in 20 December 2013.
Ad blocker interference detected!
Wikia is a free-to-use site that makes money from advertising. We have a modified experience for viewers using ad blockers

Wikia is not accessible if you've made further modifications. Remove the custom ad blocker rule(s) and the page will load as expected.