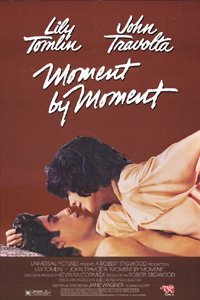 Moment by Moment is a 1978 American romantic drama film starring Lily Tomlin and John Travolta. It was written and directed byJane Wagner, produced by Robert Stigwood and released by Universal Pictures on December 22, 1978.
The film was shot on location in Malibu, California from April to July 1978.
Ad blocker interference detected!
Wikia is a free-to-use site that makes money from advertising. We have a modified experience for viewers using ad blockers

Wikia is not accessible if you've made further modifications. Remove the custom ad blocker rule(s) and the page will load as expected.