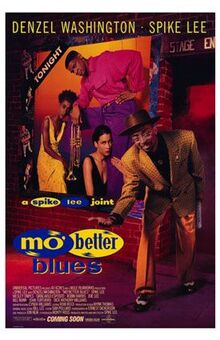 Mo' Better Blues is a 1990 musical drama film starring Denzel Washington, Wesley Snipes, and Spike Lee, who also directed. It follows a period in the life of fictional jazz trumpeter Bleek Gilliam (played by Washington) as a series of bad decisions result in his jeopardizing both his relationships and his playing career. The film focuses on themes of friendship, loyalty, honesty, cause-and-effect, and ultimately salvation. It features the music of the Branford Marsalis quartet and Terence Blanchard on trumpet. The film was released five months after the death of Robin Harris and is dedicated to his memory.
Ad blocker interference detected!
Wikia is a free-to-use site that makes money from advertising. We have a modified experience for viewers using ad blockers

Wikia is not accessible if you've made further modifications. Remove the custom ad blocker rule(s) and the page will load as expected.