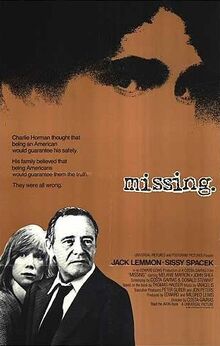 Missing is a 1982 American drama film directed by Costa-Gavras, starring Jack Lemmon, Sissy Spacek, Melanie Mayron, John Shea, and Charles Cioffi. It is based on the true story of American journalist Charles Horman, who disappeared in the bloody aftermath of the US-backed Chilean coup of 1973 that deposed the democratically elected socialist President Salvador Allende. The film was jointly awarded the Palme d'Or (with Yol) at the 1982 Cannes Film Festival.
Set largely during the days and weeks following Horman's disappearance, the movie depicts his father and wife searching to determine his fate. The film examines the relationship between Horman's wife Beth (Spacek) and her father-in-law, American businessman Ed Horman (Lemmon).
The film was banned in Chile during Augusto Pinochet's dictatorship, even though neither Chile nor Pinochet are ever mentioned by name (although the Chilean cities of Viña del Mar and Santiago are).
Ad blocker interference detected!
Wikia is a free-to-use site that makes money from advertising. We have a modified experience for viewers using ad blockers

Wikia is not accessible if you've made further modifications. Remove the custom ad blocker rule(s) and the page will load as expected.