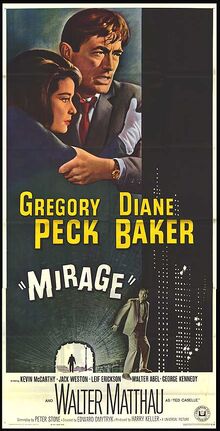 Mirage is a 1965 thriller directed by Edward Dmytryk from a screenplay by Peter Stone, based on the novel Fallen Angel, written by Howard Fast under the pseudonym Walter Ericson; the novel is not credited by title onscreen. The film stars Gregory Peck, Diane Baker, Walter Matthau, and Kevin McCarthy, and was released by Universal Pictures.
Ad blocker interference detected!
Wikia is a free-to-use site that makes money from advertising. We have a modified experience for viewers using ad blockers

Wikia is not accessible if you've made further modifications. Remove the custom ad blocker rule(s) and the page will load as expected.