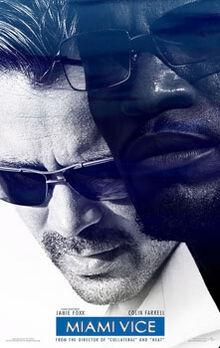 Miami Vice is a 2006 American crime film about two Miami police detectives, Crockett and Tubbs, who go undercover to fight drug trafficking operations. The film, written, directed, and produced by Michael Mann, is an adaptation of the 1980s TV series of the same name. The film stars Jamie Foxx as Tubbs and Colin Farrell as Crockett, as well as Chinese actress Gong Li as Isabella. Based on a budget of $135 M, the film earned almost $164 M.
Ad blocker interference detected!
Wikia is a free-to-use site that makes money from advertising. We have a modified experience for viewers using ad blockers

Wikia is not accessible if you've made further modifications. Remove the custom ad blocker rule(s) and the page will load as expected.