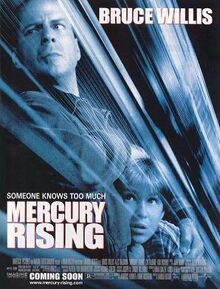 Mercury Rising is a 1998 American action thriller film starring Bruce Willis and Alec Baldwin. Directed by Harold Becker, the movie is based on Ryne Douglas Pearson's 1996 novel originally published as Simple Simon. Willis plays Art Jeffries, an undercover FBI agent who protects a nine-year-old boy with autism who is targeted by government assassins after he cracks a top secret government code.
Ad blocker interference detected!
Wikia is a free-to-use site that makes money from advertising. We have a modified experience for viewers using ad blockers

Wikia is not accessible if you've made further modifications. Remove the custom ad blocker rule(s) and the page will load as expected.