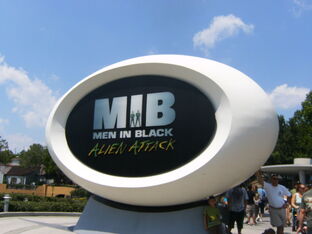 Men in Black Alien Attack is a ride at the Universal Studios Amusement Park in Orlando, Florida.
Wind your way through Men In Black's top secret underground headquarters, including the break room, the control center, the agents' locker area and weapons armory. Then board your training vehicle and ride through the streets, taking aim at "the scum of the universe" who have escaped from their intergalactic prison transport.
The ride's outcome is based on your score – save Earth and you might get promoted to full-fledged Men in Black agent. With multiple endings, it's never the same ride twice! Have you got what it takes to join the best of the best?
MEN IN BLACK™ Alien Attack™ is located in the World Expo area of Universal Studios within the 1964 World's Fair exhibit "The Universe and You." World Expo, looking like the setting for an international exposition, is a blend of the futuristic and the retro.
There are 120 different alien species, many created specifically for this thrill ride. 
Each seat in every six-seat ride vehicle is equipped with a laser gun and gaming system that records each agent's score.
It should also be noted that each alien has a different repsonse base on whether you succesfully attack it or not.
Information for this article came from:
http://www.universalorlando.com/Rides/Universal-Studios-Florida/Men-In-Black-Alien-Attack.aspx