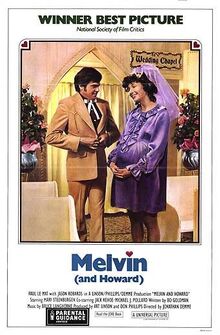 Melvin and Howard is a 1980 American comedy-drama film directed by Jonathan Demme. The screenplay by Bo Goldman was inspired by real-life Utah service station owner Melvin Dummar, who was listed as the beneficiary of USD$156 million in a will allegedly handwritten by Howard Hughes that was discovered in the headquarters of The Church of Jesus Christ of Latter-day Saints in Salt Lake City. A novelization of Goldman's script later was written by George Gipe.
The film starred Paul Le Mat, Jason Robards and, in an Academy Award-winning performance, Mary Steenburgen.
Ad blocker interference detected!
Wikia is a free-to-use site that makes money from advertising. We have a modified experience for viewers using ad blockers

Wikia is not accessible if you've made further modifications. Remove the custom ad blocker rule(s) and the page will load as expected.