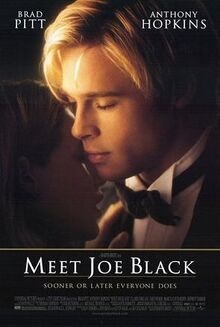 Meet Joe Black is a 1998 American fantasy romance film produced by Universal Studios, directed by Martin Brest and starring Brad Pitt, Anthony Hopkins and Claire Forlani, loosely based on the 1934 film Death Takes a Holiday. It was the second pairing of Hopkins and Pitt after their 1994 film Legends of the Fall.
Ad blocker interference detected!
Wikia is a free-to-use site that makes money from advertising. We have a modified experience for viewers using ad blockers

Wikia is not accessible if you've made further modifications. Remove the custom ad blocker rule(s) and the page will load as expected.