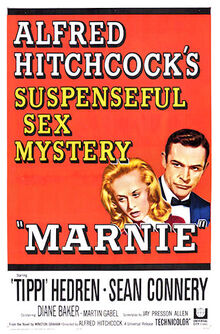 Marnie is a 1964 psychological thriller directed by Alfred Hitchcock. The screenplay by Jay Presson Allen was based on the 1961 novel of the same name by Winston Graham. The film stars Tippi Hedren and Sean Connery.
The music was composed by Bernard Herrmann, his last of seven critically acclaimed film scores for Hitchcock. Marnie also marked the end of Hitchcock's collaborations with cinematographer Robert Burks (his twelfth film for Hitchcock) and editor George Tomasini (who died later in the year).
Ad blocker interference detected!
Wikia is a free-to-use site that makes money from advertising. We have a modified experience for viewers using ad blockers

Wikia is not accessible if you've made further modifications. Remove the custom ad blocker rule(s) and the page will load as expected.