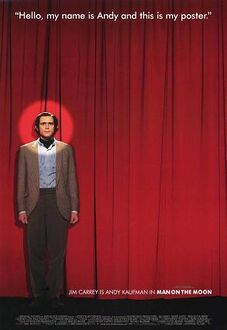 Man on the Moon is a 1999 American biographical comedy-drama film about the late American entertainer Andy Kaufman, starring Jim Carrey. The film was directed by Miloš Forman and also features Danny DeVito, Courtney Love, and Paul Giamatti. DeVito worked with Kaufman on the Taxi television series, though DeVito did not appear in the film as his Taxi character. Other members of that show's cast, including Marilu Henner, Judd Hirsch, Christopher Lloyd, and Jeff Conaway, make cameo appearances in the film, playing themselves. Notably absent was Tony Danza, who at the time of filming was performing in "A View from the Bridge" on Broadway. The film also features Patton Oswalt in a minor role.
The story traces Kaufman's steps from childhood through the comedy clubs and television appearances that made him famous, including his memorable appearances on Saturday Night Live, Late Night with David Letterman, Fridays, and his role as Latka Gravas on the Taxi sitcom, which was popular for viewers but disruptive for Kaufman's co-stars. The film pays particular attention to the various inside jokes, scams, put-ons, and happenings for which Kaufman was famous, most significantly his long-running feud with wrestler Jerry "The King" Lawler and his portrayal of the bawdy lounge singer Tony Clifton.
Although the film itself received mixed reviews, Carrey received critical acclaim for his performance and won a Golden Globe, his second win in a row after receiving an award for The Truman Show. He was nominated in the Musical/Comedy category for Man on the Moon, and remarked in his acceptance speech that he thought the film was a drama at heart.
Ad blocker interference detected!
Wikia is a free-to-use site that makes money from advertising. We have a modified experience for viewers using ad blockers

Wikia is not accessible if you've made further modifications. Remove the custom ad blocker rule(s) and the page will load as expected.