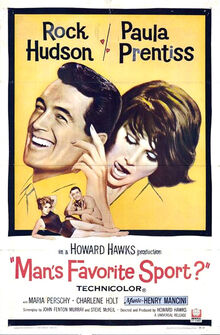 Man's Favorite Sport? is a 1964 comedy film starring Rock Hudson and Paula Prentiss. Released by Universal Pictures, the movie was directed and produced by Howard Hawks.
Hawks intended this movie to be a homage to his own 1938 screwball classic Bringing Up Baby with Katharine Hepburn and Cary Grant, and unsuccessfully tried to get the original stars to reprise their roles.
Ad blocker interference detected!
Wikia is a free-to-use site that makes money from advertising. We have a modified experience for viewers using ad blockers

Wikia is not accessible if you've made further modifications. Remove the custom ad blocker rule(s) and the page will load as expected.