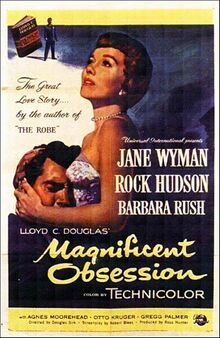 Magnificent Obsession is a 1954 Universal-International Technicolor romantic feature film directed by Douglas Sirk; starring Jane Wyman and Rock Hudson. The screenplay was written by Robert Blees and Wells Root, after the 1929 book Magnificent Obsession by Lloyd C. Douglas. The film was produced by Ross Hunter. Sirk sometimes claimed that the story was based distantly on the Greek legend of Alcestis.
In 1935 Universal Studios introduced Magnificent Obsession starring Irene Dunne and Robert Taylor, based on Lloyd C. Douglas' book.
Ad blocker interference detected!
Wikia is a free-to-use site that makes money from advertising. We have a modified experience for viewers using ad blockers

Wikia is not accessible if you've made further modifications. Remove the custom ad blocker rule(s) and the page will load as expected.