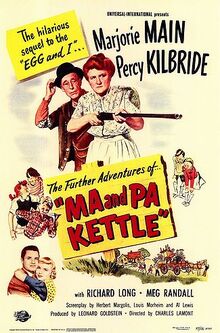 Ma and Pa Kettle is a 1949 American comedy film directed by Charles Lamont. It is the sequel to the 1947 film version of Betty MacDonald's semi-fictional memoir The Egg and I and the first official installment of Universal-International's Ma and Pa Kettle franchise starring Marjorie Main and Percy Kilbride.
Ad blocker interference detected!
Wikia is a free-to-use site that makes money from advertising. We have a modified experience for viewers using ad blockers

Wikia is not accessible if you've made further modifications. Remove the custom ad blocker rule(s) and the page will load as expected.