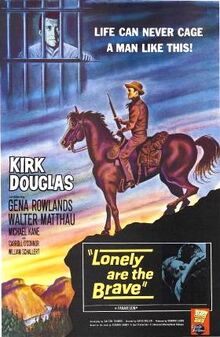 Lonely Are the Brave is a 1962 film adaptation of the Edward Abbey novel The Brave Cowboy. The film was directed by David Miller from a screenplay by Dalton Trumbo.
It stars Kirk Douglas as cowboy Jack Burns, Gena Rowlands as his best friend's wife and Walter Matthau as a sheriff who sympathises with Burns but must do his job and chase him down. It also featured an early score by composer Jerry Goldsmith. Douglas felt that this was his favorite film.
Ad blocker interference detected!
Wikia is a free-to-use site that makes money from advertising. We have a modified experience for viewers using ad blockers

Wikia is not accessible if you've made further modifications. Remove the custom ad blocker rule(s) and the page will load as expected.