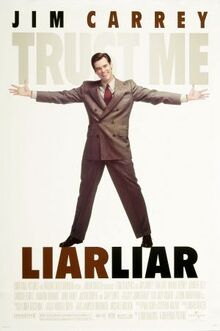 Liar Liar is a 1997 American comedy film written by Paul Guay and Stephen Mazur, directed by Tom Shadyac and starring Jim Carrey who was nominated for a Golden Globe Award (1997) for Best Performance by an Actor in a Motion Picture - Comedy/Musical.
The film is the second of three collaborations between Carrey and Shadyac, the first being Ace Ventura: Pet Detective and the third being Bruce Almighty. It is also the second of three collaborations between Guay and Mazur, the others being The Little Rascals and Heartbreakers. It has been unofficially remade in Bollywood as Kyo Kii... Main Jhuth Nahin Bolta.
Cast
Ad blocker interference detected!
Wikia is a free-to-use site that makes money from advertising. We have a modified experience for viewers using ad blockers

Wikia is not accessible if you've made further modifications. Remove the custom ad blocker rule(s) and the page will load as expected.