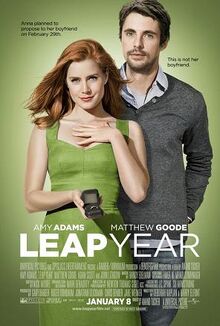 Leap Year is a 2010 American romantic comedy film directed by Anand Tucker, and starring Amy Adams and Matthew Goode. The film is about a woman who heads to Ireland to ask her boyfriend to accept her wedding proposal on leap day, when tradition supposedly holds that men cannot refuse a woman's proposal for marriage. Her plans are interrupted by a series of increasingly unlikely events and are further complicated when she hires a handsome innkeeper to take her to her boyfriend in Dublin. The film premiered in New York City on January 6, 2010.
Ad blocker interference detected!
Wikia is a free-to-use site that makes money from advertising. We have a modified experience for viewers using ad blockers

Wikia is not accessible if you've made further modifications. Remove the custom ad blocker rule(s) and the page will load as expected.